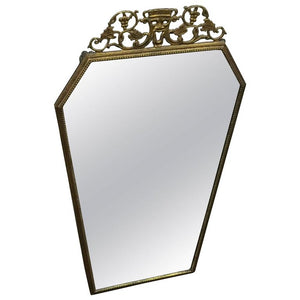 Elegant 1920s Bronze Bacchus Mirror by Oscar Bach
A beautifully bronze forged mirror with the mask of Bacchus and grapes and vines surrounding him. Made by Oscar Bach the bronze artist of mythological subjects this is a great mirror to put above a console table. Works with neoclassical décor and modern design alike.
CREATOR: Oscar Bach (Artist)
OF THE PERIOD: Neoclassical
PLACE OF ORIGIN: United States
DATE OF MANUFACTURE: circa 1920s
PERIOD: 1920-1929
MATERIALS AND TECHNIQUES: Cast Bronze
CONDITION: Excellent
WEAR: Wear consistent with age and use. Minor fading.
DIMENSIONS:
2 ft. 4 in. H x 16 in. W x 1 in. D
71 cm H x 41 cm W x 3 cm D
SHIPPING:
$260 Shipping to Continental US
$520 Shipping to rest North America
$780 Shipping to rest of world